Google AdSense Publishers Need a Privacy Policy
Google AdSense provides

clear terms

on which it will allow a publisher to participate in its program. When you sign up as a publisher, you agree to

Google's AdSense

Online Terms of Service. Here's part of what you're agreeing to:
A Privacy Policy is Required By Law
To make the most out of Google AdSense, you'll want as many people as possible to visit your website and click on your ads. Even if you're operating in a country or state that doesn't have strict privacy laws (and there are increasingly few), you're still going to have to

abide by the rules

of the places from which your users are visiting your website.
European Union
The EU's General Data Protection Regulation (

GDPR

)

requires

anyone who

processes the personal data

of EU citizens to publish a information about their data processing activities in a "

concise, transparent, intelligible and easily accessible form, using clear and plain language.

" This means

you need a Privacy Policy

. If you're a Google AdSense publisher whose website gets EU traffic –

this means you

.
United States
The California Online Privacy Protection Act (

CalOPPA

) means that any "

web site or online service that collects personally identifiable information through the Internet about individual consumers residing in California

" must "

conspicuously post its privacy policy

on its web site.

"

If you're processing personal data on your website, and you want it to be accessed in California, you have to abide by CalOPPA –

no matter where the website is hosted

.
Other Places
The Australian Privacy Act 1988 requires you to have a Privacy Policy if you're processing the personal data of

Australia residents

.
Canada's Personal Information Protection and Electronic Documents Act (PIPEDA) requires companies who are

processing the personal data of Canadians

to have a Privacy Policy available on request.
Singapore's Personal Data Protection Act (PDPA) requires you to

inform Singapore residents

of your purposes for collecting their personal data. This amounts to the requirement for a Privacy Policy.
Cookies and Privacy Law
Google AdSense uses

cookies

to help it display ads that are relevant to your website's visitors. Because of the information that these particular cookies provide about your visitors, they constitute

personal data

.

Google

requires

its users to

be transparent

about how their websites use cookies. This requirement includes displaying a Privacy Policy:

Privacy law also specifically requires you to

provide information

about the

cookies

your website uses.

The EU has been regulating cookie usage since

Section 25

of the ePrivacy Directive 2002 stated that use of cookies "

should be allowed on condition that users are provided with

clear and precise information

" about their use. The Directive also states that "

users should have

the opportunity to refuse

" cookies.

The GDPR only mentions cookies once, in

Recital 30

. However, this small mention is enough to establish that cookies that identify a user's device are a type of

personal data

, and so should be treated as such.
The GDPR's rules on transparency and security apply to cookies as much as it applies to a person's name or phone number.
Section 22577(a)(7)
of CalOPPA gives a definition of "
personally identifiable information
" which includes "
information concerning a user that the Web site or online service

collects online from the user

and maintains in personally identifiable form.
"
Certain cookies fit this definition
.
Google AdSense Requirements
You're

required

you to have a Privacy Policy, and it must include some specific information:

There are a number of ways you might write a Privacy Policy or

adapt your existing Privacy Policy

to comply with this. But it may seem a little daunting. Let's break it all down so you can understand how to implement it.
Creating a Google AdSense Compliant Privacy Policy
However you present the information required by Google AdSense, you must make sure it includes:
What

cookies are and

why

you use them
Information about

consent

for cookies
This sounds basic, but it actually represents quite a lot of information.
Separate Cookie Policy
Many websites offer a Cookie Policy

separately

from their main Privacy Policy. This is fine, so long as you also make sure to provide information about your website's use of cookies – and

provide a link to your Cookie Policy

– in your Privacy Policy.

Here's how Ziff Davis, which owns Mashable, one of the top Google AdSense websites, links its Cookie Policy to

its

Privacy Policy:

Article 12(1) of the GDPR requires that you write your Privacy Policy "

in a concise, transparent, intelligible and easily accessible form, using

clear and plain language

[…]".
You can't assume that your users will understand what cookies are and why they might represent a privacy concern.
Here's how dating website and AdSense publisher
Plenty of Fish
explains what cookies are to its users:

Types of Cookies You Use
One of Google's requirements for AdSense users is that they indicate the following in their Privacy Policy:
"

Third party vendors

, including Google, use cookies to serve ads based on a user's previous visits to your website or other websites."
Article 13
of the GDPR requires your Privacy Policy to include information about
"the

recipients

or categories of recipients of the personal data
" you collect from your visitors.
Because Google AdSense manages the cookies running on your website, cookies will be placed on your users' devices from
an outside domain
. In effect, your users are visiting
your
website but their personal data is being processed by
someone other than you
.
Here's how mobile network operator
O2
explains its use of
third-party cookies
to its websites users: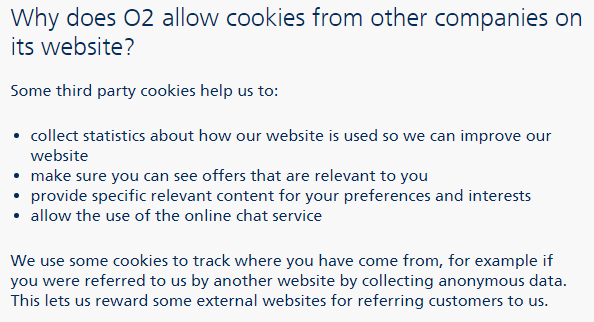 This fulfills the requirements under
Article 13(1)(c)
of the GDPR to inform your users of "
the purposes of the processing for which
[their]
personal data are intended,
" i.e.
the reasons why
you're collecting your users' personal data via cookies.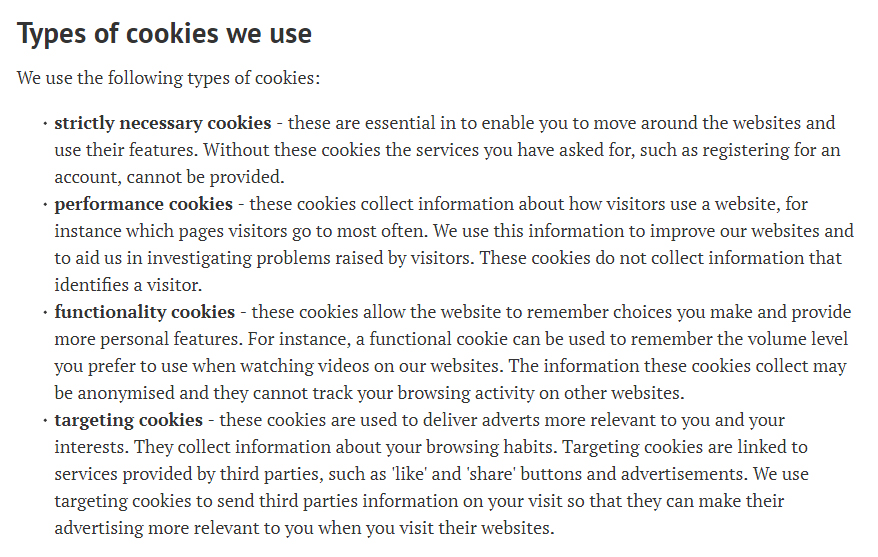 The
Levi's
Privacy Policy makes
specific reference to Google
:

Note that previously the Google AdSense Online Terms of Service required publishers to make reference to DoubleClick cookies in their Privacy Policy. This is no longer required.
Other Third Party Ad Vendors
Google publishers have the option to

opt out

of third-party ad serving. If you decide

not

to do this, Google AdSense requires that you do the following:

Here's how news website

The Independent

links

users to the third party ad networks and vendors that use cookies on their website:

Note that Google AdSense does provide

an alternative option

to listing each third-party ad network:

"Alternatively, you can direct users to opt out of some third-party vendors' uses of cookies for personalized advertising by visiting www.aboutads.info."

Google AdSense publisher

Aetherweb

follows this

alternative option

. It doesn't list all the third-party ad networks used by Google, but it does link to www.aboutads.info, a website where users can manage their consent for cookies.
Here's the relevant section of its Privacy Policy:

Obtaining Your Users' Consent For Cookies
If your website serves users in the EU, there are some

additional requirements

under the GDPR that you'll need to meet before you can use cookies (and therefore Google AdSense) on your website.

Under

Article 6

of the GDPR, you're prohibited from processing the personal data of EU citizens unless you have a

lawful basis

for doing so. Because with Google AdSense you'll be using targeted cookies for advertising and because you don't have a direct relationship with many of your visitors, the only safe and lawful way for you to do this is by

obtaining their consent

.

Article 7

of the GDPR brings some

new conditions

for consent.

Consent must be

freely given

– "a clear affirmative act." Messages like "You allow us to use cookies by using this site" without any further information are no longer acceptable.
If you users choose to give their consent, they must also be able to

withdraw

it.
Cookie Consent Banner
When users visit your site, you should present them with the option of consenting to cookies as

early as possible

. It's worth considering the following principle given at

Recital 42

of the GDPR:

"Consent should not be regarded as freely given if the data subject has no genuine or free choice or is unable to refuse or withdraw consent without detriment."
In other words, your visitors can't be said to have consented to cookies if they were "forced into" agreeing to them (e.g. a message like "Consent to advertising cookies to continue"), or if your site wouldn't function without them.
A great way to do this is via
a small but obvious banner
at the top or the bottom of the page.
Privacy Policy
Reviewed by
Rohit Nair
on
December 11, 2018
Rating: